Kraken exchange: opportunities
Kraken is one of the largest cryptocurrency exchanges founded in 2011. It provides the ability to trade various cryptocurrencies such as Bitcoin, Ethereum, Litecoin and others, as well as exchange cryptocurrency for fiat money including US dollars, euros and other national currencies. Kraken provides cryptocurrency trading opportunities with high liquidity and security in mind. But before using the exchange, it is important to study its functionality, terms and conditions, as well as take into account your own investment goals and risks.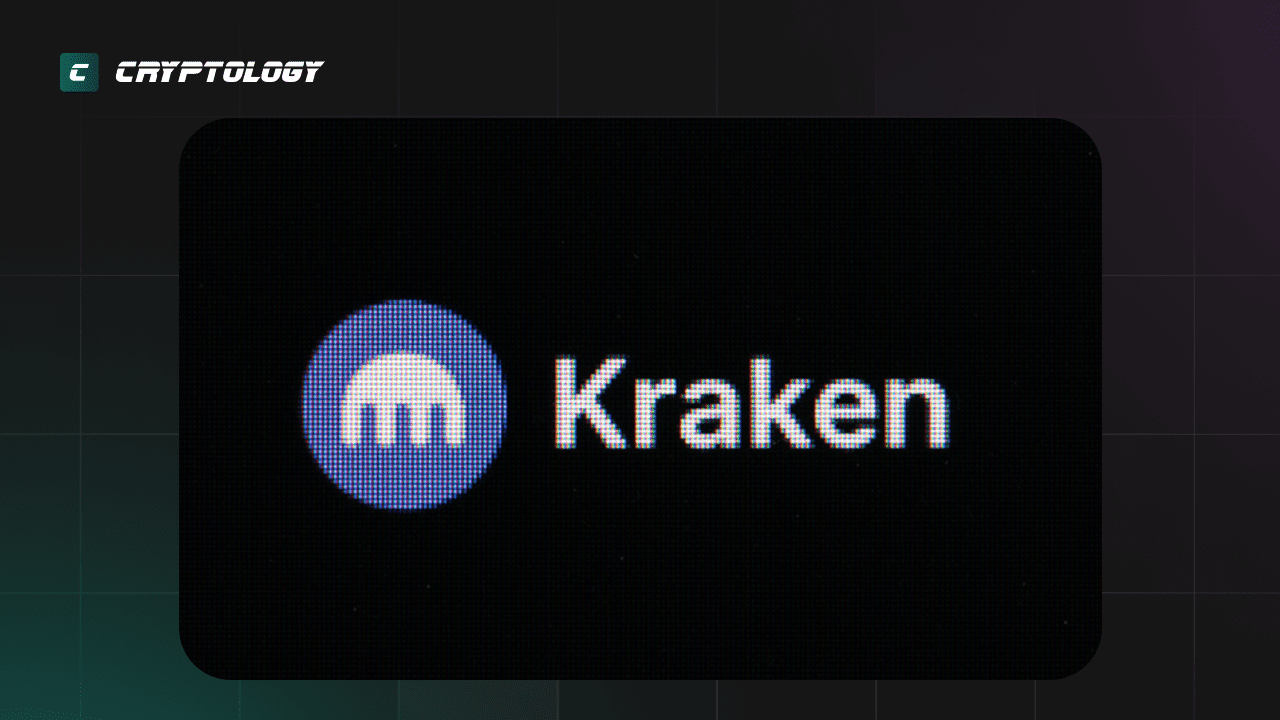 History of the Kraken exchange
Kraken exchange was founded in 2011. Its creator is Jesse Powell, who previously worked as a software developer and bitcoin consultant. He saw a need for a reliable and secure platform for exchanging and trading cryptocurrencies, and this was the starting point for the creation of Kraken.
Kraken was officially launched in September 2013. The exchange was launched in San Francisco, California, USA, and since then it has become one of the most respected and widely used crypto exchanges in the world.
Kraken started out by supporting a few major cryptocurrencies, including Bitcoin and Litecoin. Over time, they have gradually expanded the list of available assets by adding Ethereum, Ripple and other popular cryptocurrencies.
Kraken has also had several successful partnerships and acquisitions in its history. In 2016, they merged with exchange Coinsetter and payment company CleverCoin, expanding their geographical presence in Europe. In 2019, Kraken acquired cryptocurrency payment company Bit Trade in Australia, which helped them strengthen their global market position.
Currently, Kraken continues to evolve and offer new products and services to meet the needs of their users. They strive to stay ahead of innovations in the crypto world and maintain their reputation as one of the most reliable and progressive crypto exchanges.
How to pass verification on Kraken exchange
The verification process on the Kraken exchange consists of several steps. Here are general instructions on how to verify on Kraken:
Registration. The first step is to create an account on the Kraken exchange. Go to the official Kraken website and follow the instructions to create a new account. On the top right, you will see a "Create Account" button. You can create either a Personal account or a Business account.
Email address confirmation. Once you have registered, you will receive a confirmation email. Follow the instructions in the email to confirm your email address.
Account Login. Use your credentials to log in to your Kraken account.
Preparing documents for verification. To complete the verification process, you will need documents that prove your identity and residential address. This may include scanned copies of your passport or ID card, and a utility bill or bank statement showing your address.
Beginning the verification process. Log in to your Kraken account. Immediately after registering and logging in, you will see a "Start your journey" banner that will prompt you to verify your identity.
Filling in your data and uploading documents. You will be presented with forms where you will need to fill in your personal details and upload scanned copies of the required documents. Be sure to follow the specified requirements and make sure that the documents provided are clearly visible without distortion.
Wait for verification to complete. After submitting your account verification request, Kraken will verify your submitted data and documents. This process may take some time, usually a few days.
Receive Confirmation. Once your verification is successfully completed, you will receive a notification from Kraken. You will now be able to use the full functionality of the platform and make transactions with cryptocurrencies.
It is important to note that the verification requirements and process may vary slightly depending on your country of residence and the verification level you choose (Kraken usually offers several verification levels with various restrictions). It is recommended that you carefully read the instructions and requirements listed on Kraken's official website before beginning the verification process.
Kraken Exchange Security and Support
Kraken Exchange places great importance on security and takes measures to protect the funds and data of its users.
The list of methods and measures that the exchange undertakes for data security looks like this:
Cold Storage of Funds. The majority of Kraken users' funds are stored in offline storage called "cold wallets". This provides an additional layer of protection against hacker attacks and unauthorized access.
Two-Factor Authentication (2FA). Kraken supports the use of two-factor authentication for account login. This allows users to add an extra layer of security by requiring a second factor (such as a one-time password or SMS code) in addition to a password at login.
Security Audits. Kraken conducts regular security audits and technical assessments of their platform to identify and address potential vulnerabilities. They also work with external auditors to verify the security of their systems.
Regulation and Compliance. Kraken cooperates with regulatory authorities and strives to comply with local regulations in the jurisdictions where they provide their services. This helps ensure compliance with regulations and requirements regarding financial security and user protection.
Fraud Detection and Prevention. Kraken actively monitors activity on its platform to detect and prevent fraudulent activity. If suspicious activity or suspected unauthorized access to an account is detected, Kraken takes appropriate action to protect users.
As for the support team, Kraken offers a team of professionals ready to help users with their questions and concerns. The support team works through a ticket system and usually responds from a few hours to a few days, depending on the workload of the support system. In addition, Kraken provides an extensive knowledge base and resources for self-study and understanding of the platform.
Trading pairs on Kraken exchange
The Kraken exchange provides a wide range of trading pairs. Trading pairs on the exchange determine which cryptocurrency will be used to buy or sell another cryptocurrency. This allows traders to exchange and participate in various trading strategies.
On Kraken, you can find trading pairs between cryptocurrencies, as well as trading pairs between cryptocurrencies and fiat currencies such as US dollars, euros, and Japanese yen. Here are some examples of trading pairs provided on the Kraken exchange:
BTC/USD (Bitcoin/US dollar).
ETH/USD (Ethereum/US dollar).
XRP/EUR (Ripple/Euro).
LTC/JPY (Litecoin/Japanese yen).
ADA/BTC (Cardano/Bitcoin).
XMR/ETH (Monero/Ethereum).
Each trading pair has its own unique code, which is used for identification when placing buy or sell orders. It is also important to consider the liquidity of the trading pair, i.e. the availability of buying or selling cryptocurrency at current market prices.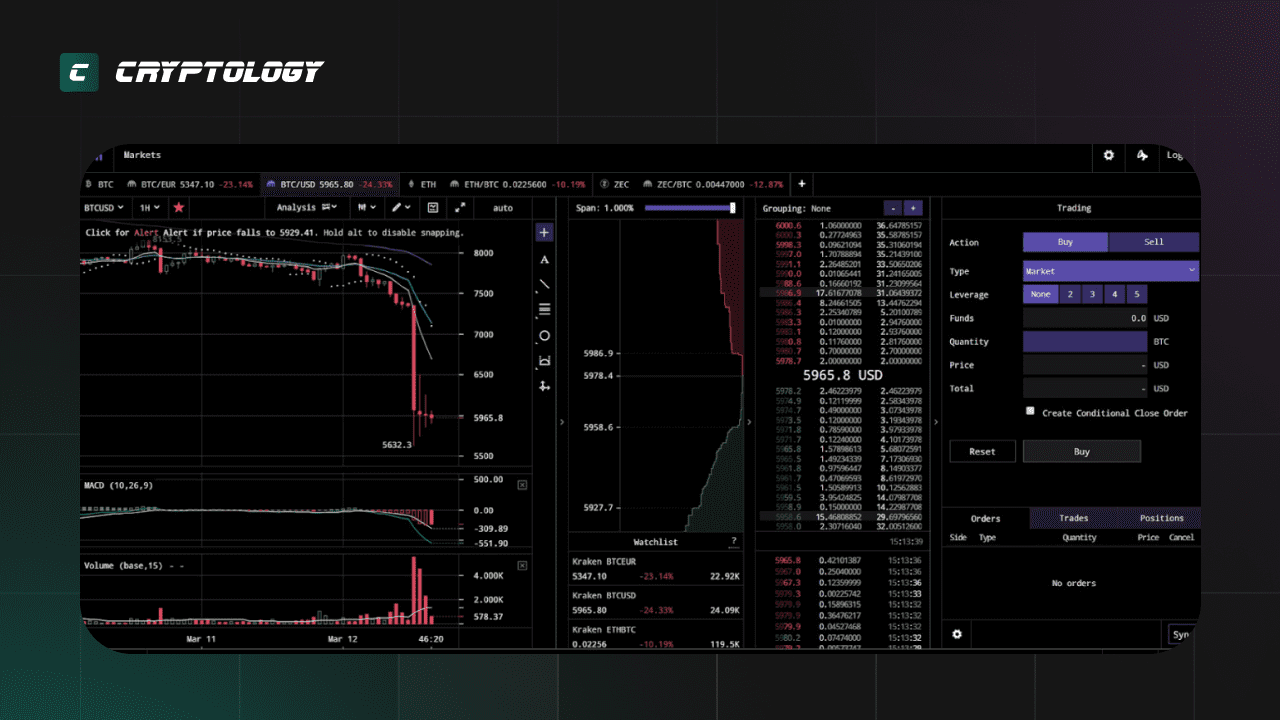 Commissions on the Kraken exchange
The Kraken Exchange offers a transparent commission structure that varies based on a user's trading volume over a 30-day period. Kraken Exchange commissions have two components: a base commission and an order creation commission.
The base commission is charged as a percentage of trading volume and depends on the user's status. User statuses on Kraken include Maker, Taker and Intermediate.
Maker is a user who places a buy or sell order that does not match the current orders in the order stack.
A Taker is a user who places an order that is immediately matched against existing orders.
Intermediate is an intermediate status between Maker and Taker.
The commission for order creation is charged as a percentage of the order volume and depends on the currency pair and the user's status. Some currency pairs may have additional requirements or commissions, which can be found on Kraken's official website.
The commission structure on Kraken helps to encourage liquidity on the exchange and encourages users to place orders in the order stack, which helps to generate the best market price. However, it is important to note that commissions on the Kraken exchange can change over time and it is recommended to check for up-to-date commission information on the exchange's official website.
Types of orders
There are various types of orders available on the Kraken exchange that allow traders to trade more flexible and precise. Here are some of the most common order types on Kraken:
Market Order. Used to instantly buy or sell at the current market price. It guarantees the execution of the order, but does not guarantee a specific execution price.
Limit Order (Limit Order). Allows a trader to specify a specific price at which he is ready to buy or sell an asset. The order will be executed only at the specified price or the best price if such a price is available in the market. A Limit Order gives the trader more control over the execution price, but does not guarantee instant execution.
Stop Order. A stop order is activated only when a certain price level is reached. Stop orders can be used to protect against losses (stop loss) or to capture opportunities when a certain level is broken (take profit). When the specified price level is reached, the stop order becomes a market or limit order and is executed at the current market price or at a specified price.
Conditional Order. Conditional order allows traders to set additional conditions for order execution. For example, you can set a condition that the order should be executed only after reaching a certain price level or trading volume.
In addition, other order types such as stop-limit orders, trailing stop orders and others are also available on the Kraken exchange, which provide additional functionality for traders.
It is important to familiarize yourself with the rules and restrictions of each order type, as well as the commissions associated with their use, on Kraken's official website or in the exchange's documentation.
Own trading terminal on Kraken exchange
Kraken's proprietary trading terminal is specialized software designed for convenient and efficient trading on the cryptocurrency market. This terminal provides traders with a variety of tools and features that help them analyze the market, make trading decisions and manage their assets.
Kraken's proprietary trading terminal has a number of advantages and features that make it popular among traders:
Intuitive interface. The terminal has a convenient and intuitive user interface, which allows traders to quickly master its functionality and effectively work with the cryptocurrency market.
Advanced charts and analysis tools. The terminal provides a wide range of graphical tools and technical analyses that help traders to analyze market data, identify trends and forecast price movements.
Variety of order types. The terminal supports different types of orders, such as market orders, limit orders, stop-loss orders and others. This allows traders to flexibly manage their trading strategies and risks.
Notifications and alerts. The terminal provides an opportunity to customize notifications and alerts about important market events, such as price changes, order execution and others. This helps traders to be aware of the current situation and make timely decisions.
Integration with Kraken exchange. The terminal is fully integrated with Kraken exchange, which allows traders to trade directly through the terminal, receive up-to-date information about account balance, open positions and transaction history.
Access to the trading terminal of the exchange is carried out through the appropriate tab. After registration and verification, log in to the exchange via the official website. Inside the control panel of your account, go to the "Trading Terminal" section. Then you can start exploring the functionality of the terminal and apply it for more successful and convenient trading.
Kraken mobile app
Kraken Mobile App is an application developed for mobile devices running iOS and Android operating systems that provides the ability to trade cryptocurrencies and manage an account on the Kraken exchange. It is a convenient tool that allows users to access their account and conduct cryptocurrency transactions directly through their smartphones or tablets.
One of the main features of the Kraken mobile app is the ability to trade cryptocurrencies. Users can place orders to buy and sell cryptocurrencies, track current market prices and view charts to analyze price changes and trends in the market.
In addition to trading, the Kraken mobile app also provides account management features. Users can view their balance, transaction history and track the status of their orders. They can also set up alerts and notifications to stay up to date with the latest market developments and changes to their accounts.
The Kraken mobile app features a user-friendly and intuitive interface that makes it easy to navigate and utilize all available features. It also offers a high level of security, including data encryption and the use of two-factor authentication to keep users' accounts safe.
Spot and margin trading on Kraken
Spot and margin trading are the two main types of trading available on the Kraken exchange. Spot trading on Kraken refers to the normal buying and selling of cryptocurrency at current market prices. In spot trading, users can directly buy or sell cryptocurrency at current prices determined by supply and demand on the exchange. Spot trading transactions are usually immediate and users take actual possession of the cryptocurrency once the transaction is completed.
Margin trading on Kraken allows users to trade using borrowed funds or leverage. This means that users can borrow additional funds to increase their trading opportunities. With margin trading, users can open positions with higher amounts than their actual balance and engage in trading with larger volumes. However, margin trading also carries a risk of loss, as increased leverage can amplify both gains and losses.
Users wishing to use margin trading on Kraken must provide a certain level of margin collateral to secure their positions. This allows the exchange to protect itself from potential losses if a user's position begins to decline in value. In addition, margin trading can provide additional features such as the ability to use stop orders and limit orders.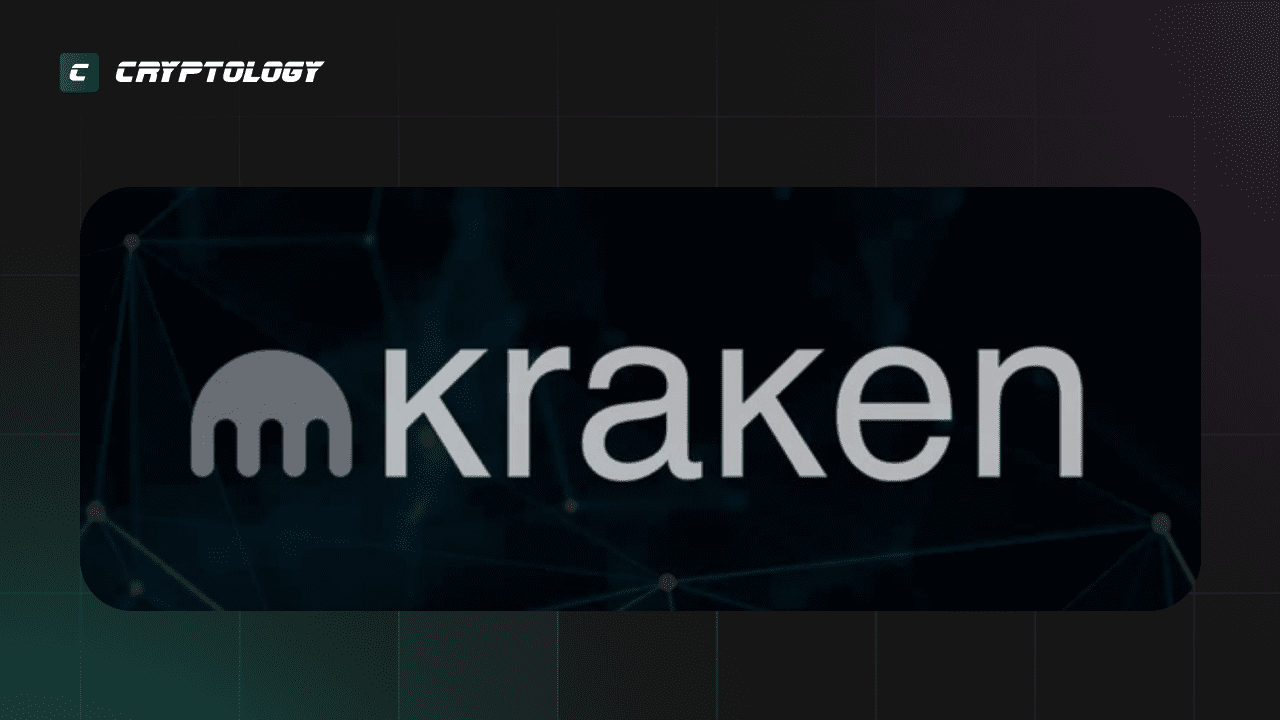 Advantages and disadvantages of the exchange
Advantages of the Kraken exchange:
Security: Kraken is considered one of the most trusted cryptocurrency exchanges. They take measures to protect users' assets using advanced encryption methods and multi-level authentication.
Liquidity: Kraken exchange is one of the largest and most liquid platforms for trading cryptocurrencies. A large number of trading pairs and an active market contribute to the convenient buying and selling of digital assets.
Diversity of trading instruments: Kraken offers a wide range of cryptocurrency pairs, including major and less popular assets. This provides users with more opportunities for a variety of trading strategies.
Professional tools and features: In addition to basic trading features, Kraken offers tools and features that may be useful for experienced traders. These include margin trading, stop-loss orders, limit orders and other features for more precise trade management.
Disadvantages of the Kraken exchange:
Access Restrictions: Kraken restricts access to its services in certain countries and regions. Some users may encounter restrictions or additional requirements when attempting to use the exchange.
Customer Support: Some users have complained about relatively slow customer support from Kraken. In case of problems or questions, it may take some users longer to receive a response from the support team.
Unavailability of some cryptocurrencies: despite a wide range of trading pairs, Kraken may not offer some less popular cryptocurrencies or tokens that may be available on other exchanges.
The advantages and disadvantages of the Kraken exchange can vary depending on the individual needs and requirements of traders.
WhiteBIT vs Kraken - the fight that never stops
WhiteBIT is a crypto exchange founded in Estonia in 2018. Despite the relative youth of this exchange, it is growing and developing at a tremendous pace, already being one of the most popular exchanges in Europe.
The key differences between Kraken and WhiteBIT include geographic focus. While Kraken does not have a clear policy in this matter, WhiteBIT is most concentrated on the European and CIS markets. Therefore, WhiteBIT can more clearly take into account the peculiarities of the region and accordingly build commissions and policies for using the exchange and trading.
One of the main advantages of WhiteBIT is its ease of use. An intuitive interface and easy navigation make the platform accessible even for those who are new to the world of cryptocurrencies. Traders can quickly master the functionality of the exchange and start trading without unnecessary difficulties.
High performance and fast execution of transactions is another significant advantage of WhiteBIT. Thanks to advanced technologies and powerful infrastructure, the exchange provides instant order execution, allowing traders to react to changes in the market lightning fast. This gives the user an advantage and an opportunity to maximize their trading opportunities.
What do you need to know about Kraken?
Kraken exchange is one of the largest and most reliable platforms for trading cryptocurrencies. It offers a wide range of trading pairs, high liquidity and a variety of tools for traders. The security of users' assets is a priority for the exchange, and they take measures to protect data and funds.
However, some users may find the exchange interface difficult to understand and there are access restrictions in some countries. Also, some users may experience delays in receiving support from customer support.
If you want to learn more about cryptocurrencies and get skills, experience and tools that you can immediately apply in the cryptocurrency market - sign up for trading courses at the CRYPTOLOGY trading school.
Latest posts —
Services overview
Kraken provides cryptocurrency trading opportunities with high liquidity and security in mind.